If you've been here before, You'll notice a difference… SPEED… well, I moved my websites and blogs to a new machine and that helps a lot. This also means that the previous post is now obsolete. In fact, it's obsolete for more than one reason…
1. The websites now run on a mini-itx formfactor server with 1 GB of mem, so we have spead, yet we save some energy…
2. The number of visitors grew since I started using entrecard as traffic exchange mechanism (which also resulted in me finding a number of pretty cool sites to follow…)
3. I now have 2 machines running 24/7, so even though they're both low energy consumption machines, the energy consumption has gone up… Not so green anymore, but at least I can support my guests with a better service…
4. I had a lot of fun and quite a large number of interesting moments when things didn't work (hope all are resolved now…)
So if there's ever a moment you're not doing anything usefull, migrate a server or two….
Cheers!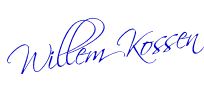 This entry was posted on Sunday, October 26th, 2008 at 08:56 and is filed under
Uncategorized
. You can follow any responses to this entry through the
RSS 2.0
feed. You can
leave a response
, or
trackback
from your own site.